Ask First App
AskFirst is a new app commissioned by NHS Buckinghamshire (CCG) to help patients get the right healthcare they need at the right time. It has been developed by a local GPs and leading IT company, Sensely. Using the app can help patients take more control of their own health.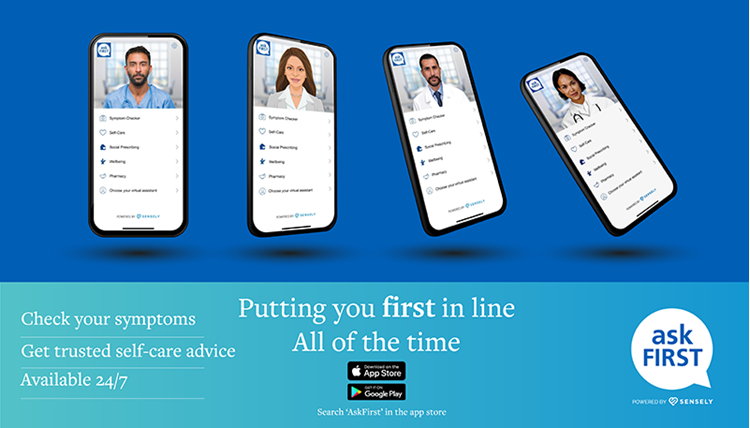 We are working hard to make sure that patients in Buckinghamshire get the right service when they need it. For patients that need to see a GP we want to make sure that they can get access through their mobile phone or smart devices.
We have been commissioned to develop and deliver AskFirst to support patients, registered with a Buckinghamshire GP, get easier access to primary care services.
The AskFirst app is free to download and features an interactive symptom checker which triages the patient to the most appropriate onward care service (self-care, NHS111, accident and emergency) within appropriate timescale, effectively helping patients to choose the right service in Buckinghamshire.
Need help setting up? Why not use our digital assistant who will provide step-by-step guides to get started.
*Click here to launch assistant*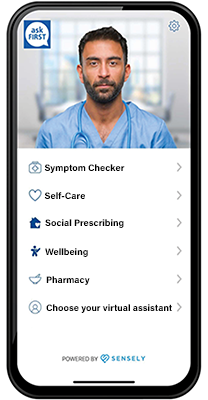 How does it work?
The app enables patients to interact with a virtual health care assistant called Olivia, she asks a series of questions (approximately 15) to assess your symptoms. Using NICE accredited evidence based protocol, based on your responses, Olivia will recommend the most appropriate onward care which includes self-care advice, advice from NHS.uk, direction to urgent or emergency care or to contact your GP.
What can I use AskFirst for?
Currently at Poplar Grove our patients can perform the following tasks with a view to introduce more features in the Autumn 2022.
Check your symptoms
Make general enquiries / admin requests
Find local services
Book Flu vaccine appointments
Book Cervical Screening tests and NHS Health Checks
Where do I get the app from?
AskFirst is available on both IOS, Android phones and smart devices. It is free to download.


Or click this link to download - http://onelink.to/askfirst
Click HERE for digital support on how to full download and use the ask first app.

Can I book an appointment with my GP?
At present Poplar Grove Practice are offering a small amount of pre-bookable appointments via AskFirst, we hope to increase this in due course. 
Who can access the app?
If your practice has been connected to AskFirst anyone can download the symptom checker. Patients under the age of 18 years old or with mental health symptoms are advised to contact their GP as normal.
When can I use the app?
The app is available to access 24 hours a day, 7 days a week on your personal device.
Introducing AskFirst Video