Dr. Alex Cornish cycles from Lands End to John O'Groats
I've always wanted to cycle across the country, and the quieter roads of lockdown meant that was able to get on my bike more than usual, including regularly commuting to work on two wheels and leaving the car at home. So this September seemed like a great opportunity to go for it, spending a total of 61 hours over seven days cycling 927 miles from Lands End to John O'Groats.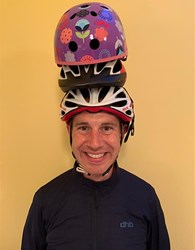 For some of us, an increase in outdoor exercise has been an unexpected benefit of lockdown, but for others a really sad result of being confined together has been an increase in domestic abuse, and unfortunately it's something that many of us working in healthcare have seen as a result.
As a GP at Poplar Grove Practice, I wanted to use the ride as an opportunity to raise money and awareness for Aylesbury Women's Aid, a local charity who support women, children and young people in need of refuge.  They've been going for over 30 years, and provide free information, support, counselling and safe temporary accommodation. They've got a great website (https://www.aylesburywomensaid.org.uk/) and their number is 01296 437 777 for anyone who might need their help.
I did the ride with a friend, who's also from Aylesbury. We cycled around 130 miles a day, climbing over 40,000 feet – Mount Everest is 29,000 feet - so it was a real challenge. Blessed with sunny weather, we travelled through Britain's glorious countryside, from the rolling hills of the South East, up the West of England, over the mountainous Cairngorms to the beautiful beaches of northern Scotland.
As with any proper challenge it was tough. On the first day we had to remember to slow down as it was too easy to forget it was a weeklong marathon, and not just a day-ride!  We created countless hills in Cornwall and finished the day in Devon with a well-earned cream tea (cream on top!). We had got off to a good start, and on day two travelled through Devon, Somerset, Gloucestershire and on into Worcestershire – a particular highlight was dodging goats in Cheddar Gorge! Day three was a sunny day out, helped by a friend joining us for a moral boost, and ending up in Preston.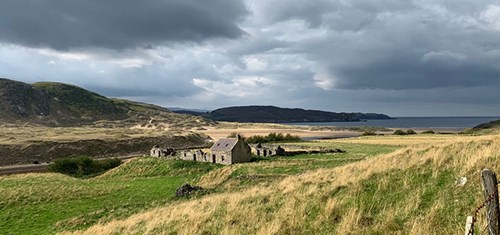 But it had all been going a bit too smoothly, and by day four the hours in the saddle were taking their toll (mainly on my bottom!).  Having entered Scotland, it was tempting to believe we were nearly there… but the reality was we still had half the distance to go! I was in pain and starting to wonder if I could make it all the way, but after some tough love from my wife, and lots of plasters from Tesco, I changed my mindset, accepted it was going to hurt a bit, and (with some hesitation to actually sit down) got back on the bike the following morning. Luckily the nice roads, steady flow of tasty carbohydrates (deep-fried haggis, anyone?!), and distracting scenery helped hours pass, and I dismounted much happier that night as we arrived in Blairgowrie. We had been looking forward to day six since we had planned the route – we were going to wind our way up and over the Cairngorms before dropping down through Inverness. It didn't disappoint! The mountains were awesome, steep, and the riding was a mixture of barely inching our way up, followed by topping 50mph on some deliciously curving descents. Though we were very tired, it was well worth it! The final day saw us liberally applying suncream as the sun continued to light us through the Highlands. We lunched by a loch before gradually continuing our journey along the North coast until we could go no further…. we had finally reached John O'Groats! And no, we didn't cycle home!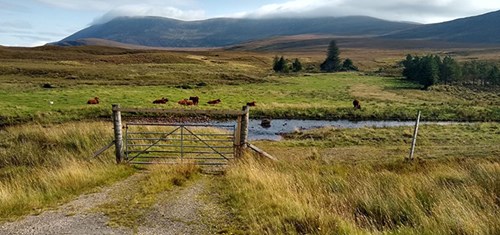 My initial target was £1000, but thanks to the huge generosity of patients, colleagues, friends, and family I am really proud to have raised over £3000 so far.
If anyone would still like to donate to Aylesbury Women's Aid, then please do by following the link below:

https://www.justgiving.com/fundraising/alex-cornish2